Credit cards
A credit card is associated with a loan, so you do not have to keep track of the balance on your current account and you can shop without worries. You can withdraw credit from your credit card at any time and postpone your repayment later. And if you repay during an interest-free period, you pay no interest.

You can pay by credit card at stores and on the internet or withdraw from ATMs around the world.

Our credit cards offer one of the most advantageous interest on the market to consumers and individuals - entrepreneurs.
---
The benefits of our credit card
Card issuance and maintenance - free of charge
Interest 19,90 % for consumers and 17,90 % for individuals - entrepreneurs
Optional beginning of an interest-free period - you have 45 days to pay without interest

Possibility to set a direct debit to pay the entire amount used - free

You will be notified of the upcoming maturity date by e-mail or by SMS


You draw money whenever you need it, and you can use it for any purpose

With a Mastercard and Visa credit card you can pay by mobile phone (Google Pay, Apple Pay) and watch (Garmin Pay, Fitbit Pay)


You can pre-charge your credit card, so that you get a positive balance and in this case do not pay interest on ATM withdrawals

Possibility to negotiate card insurance (travel, card loss and theft, legal protection of drivers)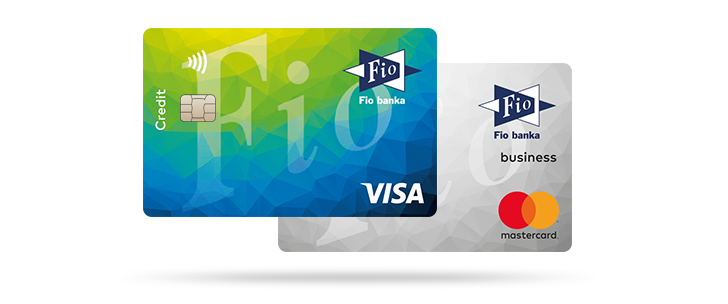 ATM withdrawals
With Visa credit cards, you have unlimited withdrawals from all ATMs worldwide with no fees (Withdrawals are immediately charged interest).

The following scheme applies to Mastercard cards:

Unlimited withdrawals from Fio banka ATMs without fees (Withdrawals are immediately interest-bearing).

Up to 5 withdrawals per month (at least always two) from foreign ATMs in the Czech Republic and abroad without fees (Withdrawals are immediately interest-bearing).
Credit card parametres
Credit card limit from 10,000 to 500,000 CZK

Minimum monthly repayment of 5%, minimum 500 CZK

Interest-free period up to 45 days according to the date you choose

You will receive an account statement after 30 days, then you have 15 days to repay the drawn amount.

If you do not pay all the money in an interest-free period, you pay interest only on the borrowed amount.

For consumers and individuals - entrepreneurs

Representative example with APR
---
Pay your credit card with no worries and no interest
You have several options to simplify your credit card repayment. So you do not forget to repay, you can set an alert for the upcoming maturity date, either by e-mail (free of charge) or by SMS (priced according to pricelist).
If you do not want to think about installments at all, you can set a direct debit to 100 % of your drawn amount. From your Fio current account we will automatically convert money to a credit card account and repay the drawn amount. This service is completely free. If you do not want to use 100 % direct debit in the future, you simply cancel it in Internetbanking or set up automatic repayment of only the minimum amount.
And how does interest-free period, during which you do not pay any interest on card payments, work?

Simplified: To not pay any interest from your credit card payments made during the billing period (April 6 - May 5), the full amount must be paid by 20 May, ie 45 days from the beginning of the payment period. Please note, if you do not pay the full amount within the specified day, interest will be charged from the date of payment by credit card.
In detail: When you apply for a credit card, you choose the date when you want to receive a statement for the so-called "credit card payment" period, which is up to 30 days, during which you can pay by your card without interest, and you do not have to pay back the drawn amount. At the end of the billing period, we'll send you a listing of transactions. Then you have 15 days to repay. If you do so, either by transferring money from your account or by setting a 100% direct debit or by placing money at a branch, you will not be charged any interest.
We recommend that you set the end of the billing period (the day you receive the statement) so that the next 15 days end just after your payout. If you are paid, for example, every 15th of a month, set the date of the statement (end of the billing period) around the 5th of the month. So, on the 5th statement will come to you and you will be able to pay your credit card comfortably until the 20th of that month.
Every month you can use 10 withdrawals per month from our ATMs free of charge. We just add that withdrawals from ATMs do not apply to the interest-free period and are immediately remunerated at the current rate.
---
What do I have to meet to get a credit card?
The card can be set up for a current or savings account in CZK

Regular income is on your account

You have a non-problem payment history

Entrepreneurs must provide tax returns when applying for a business card
How to get a credit card
---
You can apply for a credit card at any Fio banka branch or, more conveniently, at Internetbanking or Smartbanking in the + New Product section. Once we have reviewed your request, we will inform you of the outcome.

In the case of a positive request, we will send you an approval notice.

We also set up a credit card account and put the card into production.

You will receive the credit card by post in the near future.

Then just activate the card and enjoy all of its benefits.
---
If your credit history does not allow us to approve the required credit card amount, we'll let you know about the lower credit limit or denying your request.

---
More information
---