MasterCard Standard PayPass
This is a non-contact embossed payment card is valid worldwide and can be used for cash withdrawals from ATMs and to pay for goods and services at all retailers who display the MasterCard logo and to pay for goods and services online. You can use this card at retailers equipped with electronic payment terminals and at retailers who continue to use manual (flatbed) imprinters for embossed payment cards. This has led to a significant expansion in the number of retailers accepting cards for payment. Additional insurance protection can be ordered for MasterCard Standard PayPass cards.
MasterCard PayPass technology allows for fast and convenient card payments for small amounts (up to CZK 500) without the need to insert the card into a reader, enter a PIN or sign the receipt.
How non-contact payment works:
First you have to determine if a retailer is equipped with PayPass compatible equipment. Non-contact payment can take place at all domestic and international retailers who display a symbol for non-contact payment cards:

A card with PayPass technology must be placed close to the sensor, which is marked with a non-contact payment symbol.
Information on the card is read after an acoustic signal sounds, and some sensors indicate that payment has been approved.
The retailer will then provide you with a receipt.
Feel free to use the PayPass locator.

Benefits of MasterCard Standard PayPass payment cards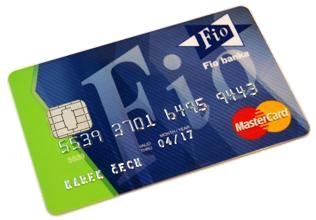 This card also features the non-contact payment card technology PayPass
10 withdrawals a month from Fio banka ATMs - free
Electronic changes to payment card limits - free
CashBack service - free
The card is for a fee CZK 99 per edition, management is free (the card is valid for 4 years)
A MasterCard Standard card is an embossed card (card information is in raised characters)
Cards are provided for current and savings accounts
Payment card PIN codes can be changed using Internet banking
The card can be used for purchasing goods and services online
You can add travel insurance and card fraud protection
You can add Insurance for Legal Protection of Motor Vehicle Drivers from D.A.S.
Every newly issued payment card receives an automatic bonus of 2 free withdrawals from non-network ATMs in the Czech Republic. You will also receive one additional free withdrawal from a non-network ATM in the next month for every CZK 4,000 (€160) of transactions made using your card in stores or online for goods or services. Free withdrawals that are not used are carried forward to the next month but are limited to 5 free withdrawals a month. In total you can enjoy up to 5 free withdrawals a month from non-network ATMs.

Example:
In January your total card transactions were CZK 17.000, giving you 4 free non-network ATM withdrawals in the month of February. If you still have 2 free withdrawals from a new card that you haven't used, in February you now have up to a maximum of 5 free non-network ATM withdrawals.
Conditions and procedure to receive a payment card
A card can be connected to your current or savings account. You can have multiple payment cards for multiple cardholders who do not need their own Fio banka accounts. The account connected to an issued card cannot be cancelled for the validity of the payment card.
Do you want a MasterCard Standard PayPass payment card?
Open a Fio banka account - more information.
LINKS:
---